folk songs of Slovak, Moravian, Bohemian folk regions, but also songs from Hungary, Romania or gipsy music and others to enjoy ourselves and share the enjoyment with our listneres.
All we play you can just listen to, or if you are courageous enough you can also dance.
The beginning of our group is dated to the year 1996. In the time being we started discovering the magic and beauty of real folk music and traditions and adapted our repertoire. Since 2001 we colaborate with the Folklore Ensemble DUNAJEC.
Martin Zatloukal - 1st violin
Petra Dankova - 2nd violin
Branislav Laris - viola accompaniment
Jakub Sobotka - double-bass
Katerina Holcova - cymbalon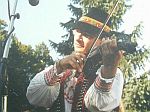 Martin Zatloukal
Husova 5
77900 Olomouc, Czech Republic
Mobil: +420-605 251 021
Email: primas@frgal.cz
Web&wap: http://www.frgal.cz